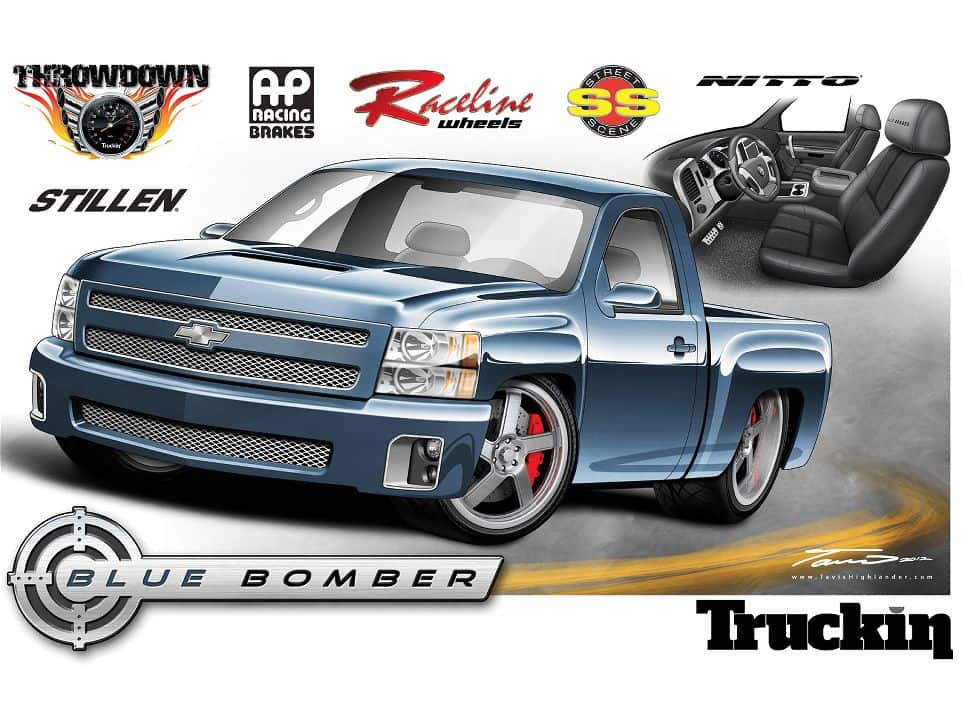 After taking a ride in our in-house race truck, dubbed Project Novakane, Tim Coltey of Long Beach, California, officially had the go-fast itch. More accustomed to hitting the trails and sand dunes in his wild, long-travel prerunner Ranger, once Tim inhaled the tire smoke from a high-horsepower V-8 and felt the adrenaline rush of straight-line speed, he had to have himself a muscle truck. Picking up a brand-new 2011 Silverado from a fleet dealership, Tim's truck had a rubber floor, no power windows or locks, and the factory 4.8L was far from shredding any tires. What he did have, however, was the perfect starting point for a street-legal performance machine just begging to be flogged. Ladies and gentlemen, start your engines.
As gearhead journalists, we like to give project trucks a name befitting the build theme. Tim is one heck of a baseball player and he's been known to hit bombs out of the stadium. With his truck being a light blue color, Blue Bomber was born. Now we had to create a truck worthy of bombing down the freeway at high speeds.
Our first stop was at Stillen. Known for installing what they sell, Stillen was able to take care of upgrading Blue Bomber's engine, exhaust, suspension, and brakes. Starting with a complete suspension from Belltech, the truck was lowered five inches in the front and six inches out back. Behind the wheel, the Silverado was much more balanced, with minimal body roll and smooth turn-in for maximum traction around the track. Ride quality wasn't far from factory, though the rear did bottom out on the frame from time to time. Much of the newfound grip came by way of Nitto's high-performance summer tire, the NT-05. Mounted to 20-inch Raceline Illusion wheels, the wheel and tire combo screamed performance without being too flashy. Stuffed behind each billet wheel, Stillen also installed AP Racing big brakes for the ultimate in stopping power. Designed for incredible initial bite, heat dissipation, and no brake pedal fade, the AP Racing brakes were the icing on the cake of this street/track weapon. We were officially getting excited about the project.
Moving under the hood, the Edelbrock e-Force supercharger helped the 4.8L make 122 hp more than stock. Once the Stillen team added the Dynatech long-tube headers and MagnaFlow exhaust, the dyno rollers were spun to 415 rwhp and 397 lb-ft. With a serious engine rumble and power that pulled for days, we made the quick trip out to Westech where Ernie Mena made some tuning adjustments for a smaller supercharger pulley and larger LS7 throttle body. Those small tweaks netted big power gains—442 rwhp and 445 lb-ft worth. Now that the truck was smoking the tires at will, we needed to address the transmission and rearend strength.
Despite the truck being a 2011, Chevy put the antiquated four-speed in the base-model Silverado and the 442 rwhp ate through the Second and Fourth gear bands. Gearstar stepped up huge and built a Level 4 4L60E four-speed transmission for the Chevy. Rated to handle up to 650 hp, the Gearstar transmission chirps second gear and the 2800-stall convertor makes the most of the boosted 4.8Ls power. Ensuring the rearend is not the weak link in the drivetrain equation, Unitrax Drivetrain in Anaheim, California, upgraded the 10-bolt with a Yukon DuraGrip posi and Yukon 3.73 gears from Randy's Ring and Pinion.
Going fast is fun, but looking good is just as important. To help Blue Bomber turn some heads, the team at L&G Enterprises in San Dimas, California, added a ram-air hood from RK Sport, SS front bumper cover and Speed Grille from Street Scene, as well as Street Scene turn-signal mirrors, and tailgate handle relocator kit. Those parts were then coated in the factory Blue Granite Metallic paint and polished to a mirror finish. Capping off the Chevy's good looks are a billet Bow Tie, also from Street Scene and the Blue Bomber logo appropriately airbrushed on the tailgate by L&G's Theresa Contreras.
Inside, the 60/40 bench seat was retained, but Audio Innovations of Glendora, California, expertly wrapped it in Rawlings baseball glove leather from Katzkin. Audio Innovations also yanked the rubber floor out of the cab and laid down a protective barrier of sound deadening from LMC Truck. LMC was also sourced for the black cut-pile carpet kit. Cranking up the metal tunes is easy thanks to the Polk Audio speakers, amp, and 10-inch sub in the hidden center console. Dressing up the base interior, US Speedo stainless steel gauges, Sherwood Innovations brushed metal dash kit, and leather steering wheel from Grant add custom appeal and class. An Electric Life power window and doorlock kit made the cabin more livable.
When we debuted the truck at the 2012 SEMA show, Tim was awestruck. His all-stock, base work truck had been completely transformed into a muscle truck he could win stoplight battles with, take to the track and be competitive, yet still drive it every day. This Silverado isn't exotic; it doesn't feature one-off parts, and everything we did to the truck you too could do to yours with the proper know-how. Blue Bomber proves that bolt-on parts can be the recipe for a successful custom truck. Tim would like to give a special thanks to Nitto, Stillen, Edelbrock, Westech, Street Scene, Raceline, L&G Enterprises, and Audio Innovations for making this build possible.
"I love all of the subtle details found on the truck both inside and out. And it's fast—that never gets old."-Owner Tim Coltey
Inside the Build
Year Make Model:
2011 Chevy Silverado
Owner and City/State:
Tim Coltey • Long Beach, California
Engine
Type: 4.8L V-8
Induction: Edelbrock e-Force TVS supercharger with Green Filters high-flow filter
Exhaust: Dynatech 1¾-inch long-tube headers, high-flow cats, MagnaFlow exhaust
Fuel System: Edelbrock fuel injectors
Engine Management: Custom ECU tune by Ernie Mena of Westech Performance
Output: 442 rwhp and 445 lb-ft
Built by: Stillen
Drivetrain
Transmission: Gearstar Level 4 4L60E
Rearend: 10-bolt with Yukon 3.73 gears and Yukon DuraGrip posi
Chassis
Front suspension: Belltech 2-inch lowering struts, Belltech 2-inch coils, Belltech 2-inch spindles, 1⅜-inch sway bar
Rear suspension: Belltech 6-inch flip kit, Belltech Street Performance shocks
Brakes: AP Racing/Stillen 14.25-inch rotors with six-piston calipers (front) and 14-inch rotors with four-piston calipers (rear)
Wheels & Tires
Wheels: 20×8.5-inch Raceline Illusion Six (front) and 20×10-inch Raceline Illusion Six (rear)
Tires: Nitto NT-05 275/40R20 (front) and Nitto NT-05 315/35R20 (rear)