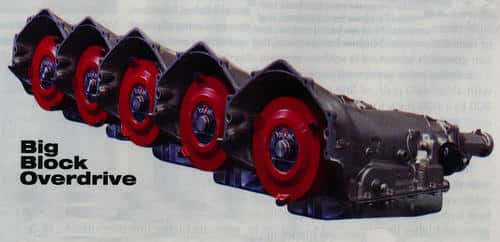 Overdrive transmissions swaps make great upgrades for classic muscle cars, but since most were not intended to harness the power of a torquey big-block, they often fail in such applications.
Gearstar Performance Transmissions has a solution in the form of its 502 Big-Block Package for the GM 700-R4. It uses upgraded internals, like a hardened steel input shaft and hardened expanded capacity drums, Raybestos Racing Blue clutch plates and Alto Racing hardened kollene steel friction plates, an Alto Racing double-width Kevlar band with carbon fiber lining, and many other performance and durability upgrades. Gearstar also uses its unique "Fall Safe" Maximum Pressure Valve Body System, which reverts to high pressure if the TV cable is misadjusted or broken. The package includes a Gearstar vacuum lock-up system to control the Yank 10-inch billet torque converter and 13 quarts of synthetic ATF. It even includes a heavy-duty transmission cooler. Cost: $3,995 Contact: Gearstar, 800-633-2353, www.gearstar.net
Gearstar Performance Transmissions is another aftermarket supplier offering several different units depending on your performance needs and engine horsepower capabilities. Gearstar's Level One is rated for 300hp engines and comes with a heavy duty 1,800-2,000 rpm stall-speed converter. This unit is remanufactured with a Corvette servo, TransGo shift kit, 10-vane pump, Raybestos steel clutches and Alto friction clutches. A .500 boost valve is also used. Gearstar's Level One 700-R4 transmission retails for $1,495. The company also produces two different Level Two transmissions: one for passenger cars and light trucks and one for four-wheel drive vehicles. The Level Two unit is rated for 400hp applications and includes a high performance 1,800-2,200 rpm torque converter. Extreme duty sprags and springs, Alto bands and a Monster sun-gear shell have been added to this offering, which sells for $1,695; the four-wheel drive version is $ 1,895.
The Level Three unit offered by Gearstar is rated for 500hp powerplants and is equipped with a 10-inch, 2,600-4,500 rpm lockup converter. Gearstar's own full race shift kit has been added, as well as a hardened steel shaft and expanded capacity drum. The pump unit has been upgraded from a 10-vane to a 13-vane, and a Sonnax "Superhold" 3-4 servo has been added. The Level Three unit retails for $ 2,995 and is recommended for big-block Chevy naturally aspirated applications.
Gearstar's top-of-the-line 700-R4 is its Level Four offering. These units are related for 500hp engines for both street and race use. The Level Four transmission receives all the upgrades mentioned for the other units, but ads a few more features. The converter, pumps and turbines in a Level Four transmission are all furnace-brazed, and each unit is assembled by hand. All Level Four units are extensively dyno-tested for 30 miles and at speeds of 130 mph. The cost of this high end unit is $3,995.