Pro Series Transmission


Gearstar engineers Pro Series Transmission to perform under the harshest racing conditions while built to manage high horsepower and torque output.
Beefed to the max with only the best hardened American made parts available and meticulously crafted to meet the specifications of racers and their teams. Racers and their teams spend countless amounts of time and money ensuring their vehicles deliver and Gearstar takes this very seriously. Gearstar engineers horsepower transfer units. Gearstar Pro Series Transmissions; built to race, engineered to win.
Crushing It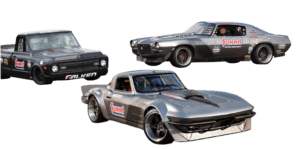 Gearstar is proud to be the trusted transmissions of the Leisinger Race Team. The Leisinger Race Team is extremely competitive in autocross racing. They have several car including the infamous Crusher Camaro, Crusher Corvette and the Crushed C10 pictured. The Leisinger Race Team equips their vehicles with Gearstar Pro Series Transmissions. It's worth mentioning that the Leisinger Race Team has the only vehicle, running an automatic transmission, that's ranking in the top 16 nationally for the last 5 years. Most note worthy the vehicle is constantly a top 3 finisher. The Gearstar Pro Series Transmissions are custom built for the Leisinger Race Team and carefully built to specifically handle the rigors and abuse of competitive autocross racing. Check out some footage of the Gearstar equipped Leisinger Race Team crushing it autocross here.
Gearstar Difference
Every Gearstar transmission is custom built to your exact specifications. We do not shelve any units. Your custom performance transmission is built, by the same master technician, from start to finish. One pair of hands ensures no detail, no matter how minute, will ever be overlooked. In addition, Gearstar DYNO tested with converter the equivalent of 100 miles to insure that transmission and converter package are in perfect operating condition before they leave our facility. Gearstar dedicates to engineering and manufacturing the finest performance transmissions in the world. Additionally, we streamline communication and manage expectations so that we deliver you our best product. Gearstar manufactures performance transmissions to the specifications of the engine in which it is going to serve. As a result, matching the rear gear ratio and the horsepower and torque output of the engine. In conclusion, quality over quantity. It's what we do.
Contact us with any questions or for more information.