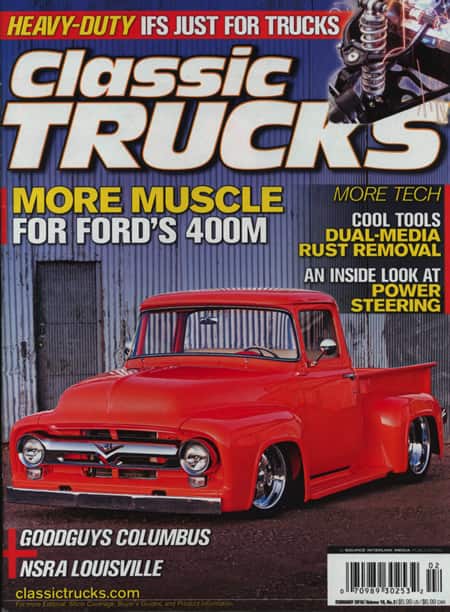 This is the first in a series of tech features on the 79 Chevy C-10 Big 10 that I recently put over 5,000 test miles on in less than two weeks' time while participating in Rod & Custom magazine's 2007 edition of Americruise celebrated in Lincoln, Nebraska. I know it's not the Americruise project truck CCT readers were expecting so please allow me to explain the chain of events leading up to the last-minute substitution.
It all started to unravel when everything I was trying to accomplish on my 72 Ford F-100 in the final days before Americruise was turning out bad, to say the least. It's a long story that we'll expand on in upcoming issue, but I can tell you it wasn't anything to do with the brands of parts I was using but rather a serious mistake in my own judgment. No problem, because if there is one thing I have learned in my 40-plus years of customizing and preparing classic trucks to run hard coast to coast, it's that you have to know when to draw up a new plan if there's a chance of failure when the stakes are high. Although I have to tell you, I didn't have much time to do it. I had only owned the 79 C-10 for less than three weeks before it had to be ready in less than a month to make the journey. Since the Big 10 Chevy came to me with only 75,000 original miles on the clock, it was in what I was hoping to be good enough condition to stand a fighting chance, but there was definitely some major changes before it was ready to roll triumphantly into Lincoln.
First and foremost on the list of things to upgrade was the 79's original equipment three speed Turbo Hydramtic transmission. Since like to run with the flow of traffic on our state system, which is usually about 10 mph above the 75 mph speed limit posted in most states I would be passing through, even with 3.07; 1 gears backing the three speed T-hydro in the differential, the stock transmission wasn't going to make the grade.
Considering the premise behind taking on the 79 Chevy Big 10 as Custom Classic Trucks' latest addition to its fleet of in-house project trucks is to evaluate and report on the most advanced technology available for 73-87 Chevrolet C-10s in the latter part of the 21st century's first decade, the choice would have to be something revolutionary.
Right off the bat, dependability was a concern, and coupled with a warning from one of our custom car editors that the number one failure on Street Rodder's Road Tour and Rod & Custom's Americruise cars has most often been the transmission, I knew I was going to have to do my homework on the subject.
This brings us to why out of all the automatic transmissions available on the market today I chose to go with a Gear Star Stage 2.5 4L60E equipped with an HGM Compushift programmable controller. One of the facts that I based my decision on was how pleased I have been with the performance and reliability of the 4L60E that came as standard equipment in the '05 GMC Sierra I bought brand new. Even with a small 5.3L (325-inch) V-8, my '05 GMC tows a tandem car trailer loaded with anything from a 72 F-100 to a 66 C-10, and the 4L60E, with its computer controls, finds the right gear at the right time to provide brisk acceleration with impressive gas mileage. By impressive, I mean around 15 mpg at 55 mph with the cruise control on. Narrowing it down to why I chose Gear Star was a fact that every transmission built by Gear Star is assigned from start to finish (core to complete) to one master builder right up until the Gear Star tranny is hooked up to an Axiline transmission dyno and put through its paces before it's crated up for shipping knowing Gear Star has a policy of performance testing each and every transmission really took the worry out of anticipating a dud.
Special internal hard parts engineered to beef a Gear Star transmission can be custom ordered for any model they offer. But the beauty of a Gear Star 4L60E linked with an HGM Compushift fitted HGM's optional Display Programmer is the ability to dial up or down how many mph the torque converter locks up, softens up shifts, or cranks it up until the rear tires bark each time the transmission shifts. This versatility enables you to compensate for changes in tire size, differential gearing, and vehicle weight and even fine-tune the Gear Star 4L60E to better suit a variation in the powerband brought on by a wilder camshaft or bigger or multiple carbs.
Looking back, it is kind of funny, but admittedly I had some initial fears about attempting to in0stall a computerized 4L60E into my truck. The stories that I heard about guys frying a conventional overdrive automatic transmission because they had improperly adjusted the 0TV cable lurked in the back of my mind as my deadline to leave for Americruise rapidly approached. But once I understood how to set up the TPS (throttle position sensor) and verify that it was correct by scanning the settings with the Compushift Display Programmer, I was cool with it. This was thanks to Mike Hoy at Compushift taking the time to instruct me on how to adjust the ratio arm correctly. Initially, I set the TPS up as per Mike's directions over the phone and then drove out to Compushift in Torrance, California, where Mike plugged in the Compushift Display Programmer and confirmed the TPS was zeroed with the gas pedal at idle. A quick punch of the gas pedal all the way to the floor revealed the TPS was at 100 percent full throttle.
Of course, as they say, the proof is in the pudding. So bright-eyed and bushy-tailed after receiving an amazing amount of help and support from a host of great people and manufactures that we'll feature beginning in the October issue covering the complete build-up of my 2007 Americruise project, I hit the highway to meet up with the Painless guys leading the southern tour.
To make a long story short, I'll tell you that right in the middle of a record summer heat wave I pushed the 79 as hard as I could without getting arrested for excessive speed. My philosophy is to try and break something as close to home as possible so that I don't have to haul it back so far. I thrashed on the Big 10 all the way to Grants, New Mexico, for my first night, where I resumed flogging the truck the very next morning and didn't let up until I had amassed over 5,000 miles crossing over some of the roughest terrain California
Arizona, New Mexico, Texas, Oklahoma, Kansas, Nebraska, Colorado, and Utah had to offer without the Gear Star 4L60E missing a beat.
In addition to providing the C-10 with an overdrive lockup fourth gear, the 4L60E utilizes a lower first gear that made a tremendous difference on how fast the truck can accelerate from a dead stop. In other words, the79 now burns rubber and feels like it has picked up a few extra ponies. The C-10 picked up two to three mpg-and trust me, when you only have a 16-gallon tank gas tank; it makes all the difference in the world when you are traveling cross-country. A good analogy of a Gear Star 4L60E in relation to a conventional automatic transmission is like comparing a carburetor to fuel injection. Instead of having to be disassembled to make any minor or major adjustments or changes, a Compushift equipped Gear Star 4L60E transmission can be fine tunes simply by changing the settings on the computer. If you're in search of a bulletproof automatic transmission that offers total tuneability, that Gear Star 4L60E should be at the top of your list of considerations.