From HOT ROD Magazine – October 2018
By John McGann ~ HOT ROD Staff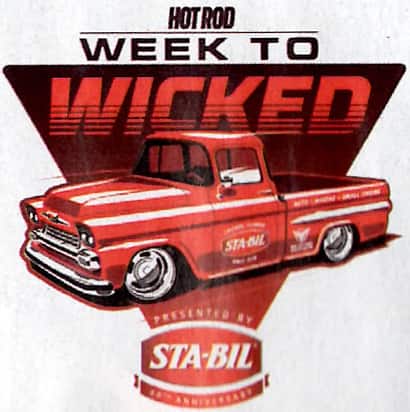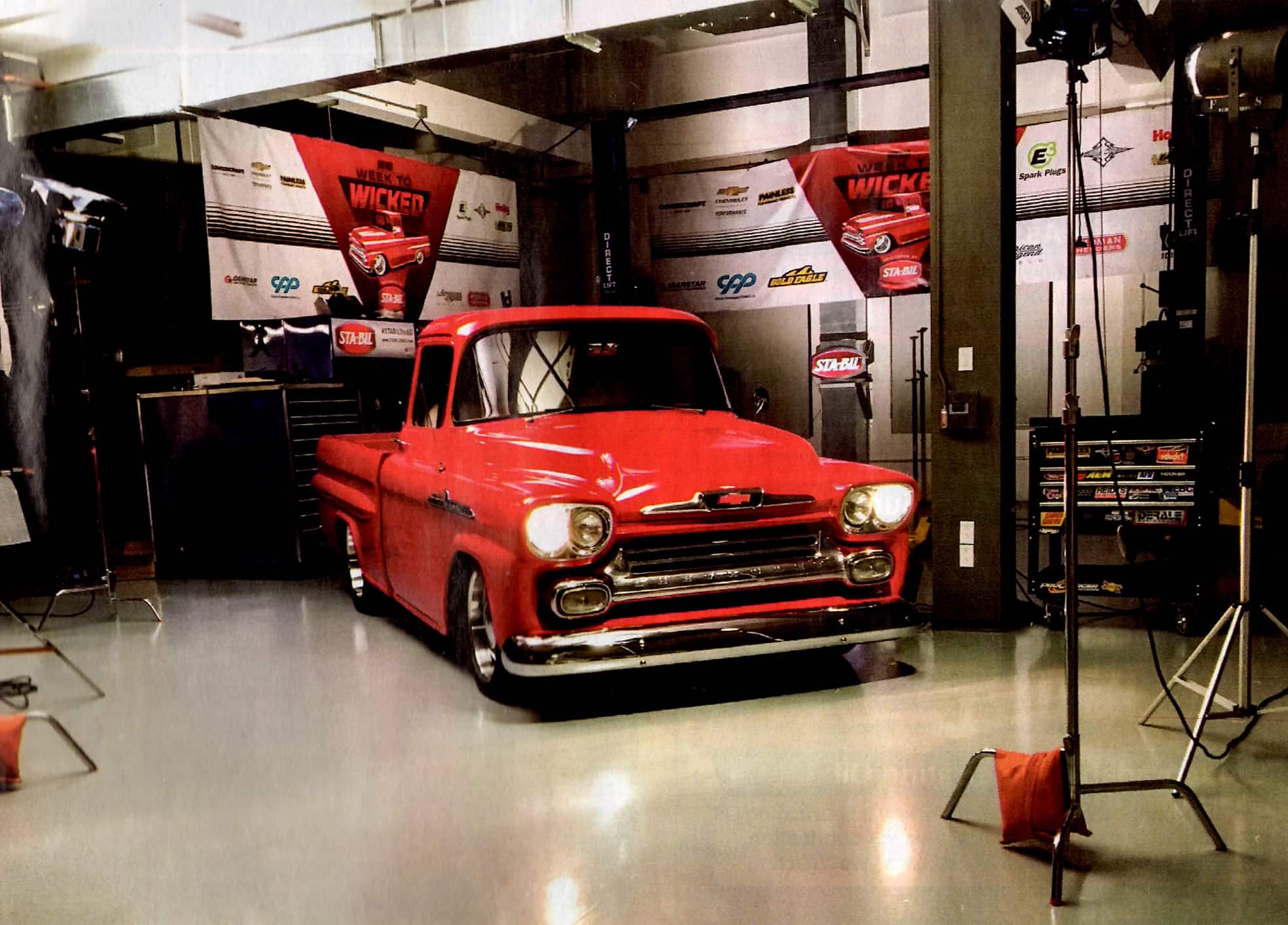 2018 is a year of anniversaries: It's HOT ROD's 70th anniversary, Chevrolet is celebrating 100 years of pickup trucks, and it's also Sta-Bil's 60th anniversary. It's only fitting, then, that all three entities joined forces in celebration. Sta-Bil, a long-running sponsor of the HOT ROD Power Tour®, wished to participate in our road trip in a different way – as a participant – and its vehicle of choice was a 1958 Chevrolet apache. Though the Apache was in really nice shape when we got it, the folks from Sta-Bil wanted to make some improvements, namely disc brands, an overdrive transmission, upgraded cooling system, and more horsepower in the form of an ultra-efficient LS3 engine.
No problem – our industry partners were happy to oblige, and we accomplished the transformation in a week's time in an operation known as Week to Wicked. The transformation took place in our Santa Ana office, where Tech Center Manager Jason Cudellari and assistant Christian Arriero led a team of workers as we transformed the Apache into a capable road-tripper in front of a full video crew who documented the process. The videos are available to view on HOT ROD's website and Facebook page; check them out and read along as we prepped this pickup for the ultimate road trip.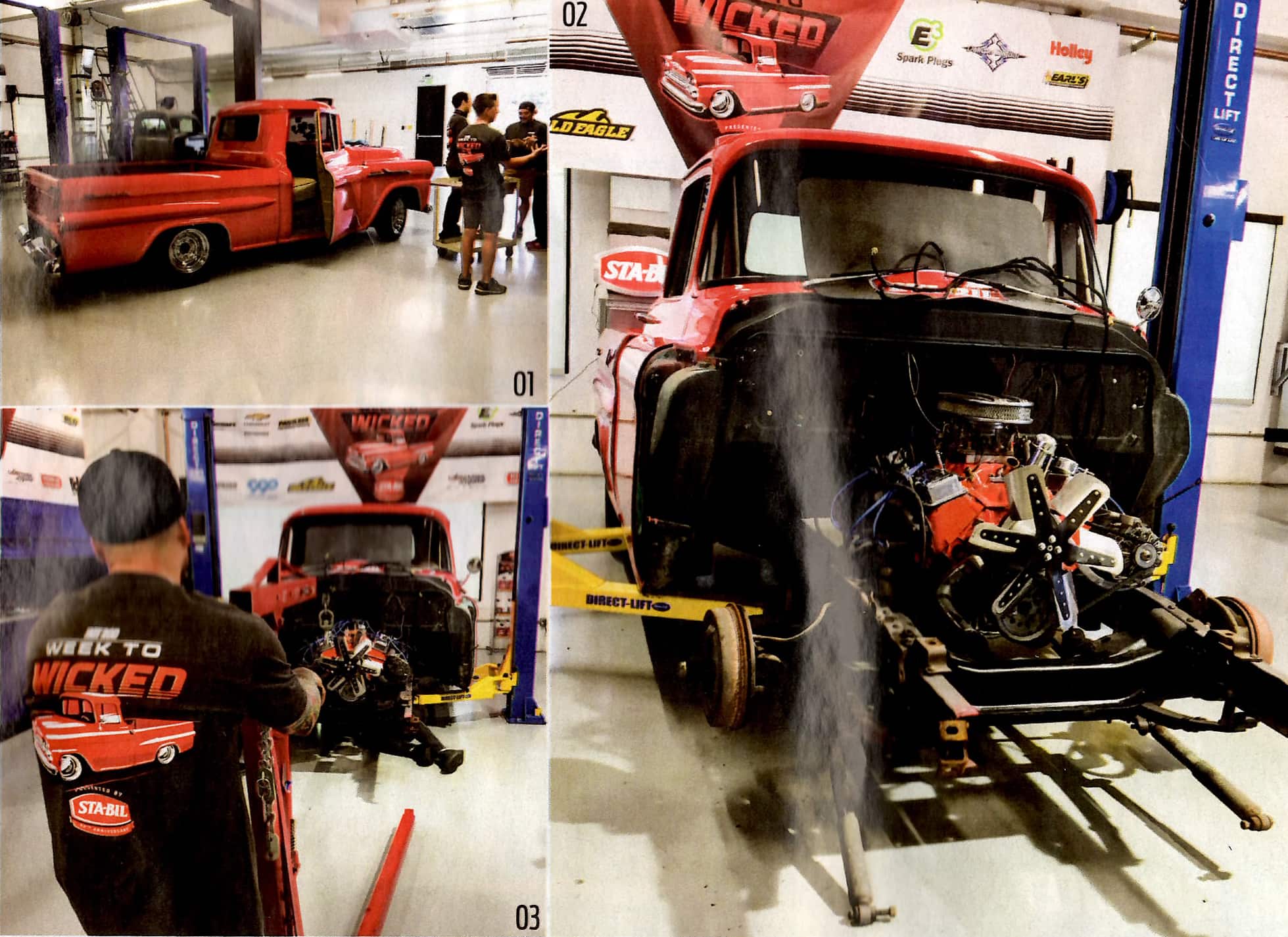 01)  Here's the Apache as we took delivery of it. We found it for sale on Craigslist in Indiana.
02)  The apache was in good running shape with a three-speed manual transmission, drum brakes, leaf springs, and a very stock-sounding small-block. It drove like an old truck: the brakes pulled to the left, it rode like a stagecoach, and the top speed was about 55 mph. To be ready for the Power Tour ®, it needed some modernizing.
03)  Jason Scudellari and crew wasted no time removing the engine, transmission, and front suspension from the truck.

04)  Classic Performance Products supplied a full independent, front-suspension conversion, rack-and-pinion steering, a new rear axle, and four-wheel disc brakes. Several of its employees chipped in to work on the truck all week.
05)  Installation of the CPP suspension begins with welding in boxing plates to strengthen the frame. No stranger to performing on camera, Scudellari gets the job done.

06)  Installation of the suspension components was straightforward. Based on the Mustange II design, CPP's kit included double-adjustable coilover shocks. Gandrud Chebrolet provided the Chevrolet Performance LS3 engine, and we began to outfit it with all its ancillary components, including Hedman's new coated cast-iron exhaust manifolds and Holley's new Mid-Mount complete accessory drive system.
07)  Gearstar provided this custom-built 4L70E transmission. This is its Level 4 package, which includes 300M alloy input and output shafts, a high-capacity pump, Torrington bearings, a carbon-fiber 2-4 band, a hardened sun-gear shell and drum, and premium Kolene clutch packs. In addition, Gearstar also included a new billet gearset with 2.84:1 First gear and 1.58:1 Second gear replacing the stock 3.01 and 1.84 gear ratios. Gearstar delivered all of that, plus the billet Yank torque converter to us in 24 hours just for this build.
08)  We carefully measured for a proper driveline angle for the LS3 and Gearstar 4L70E and Scudellari welded in the transmission crossmember.

01)  We removed the in-cab fuel tank CPP's EFI-ready aluminum tank that mounts under the bed. Earl's push-lock fuel fittings make pluming the fuel system easy.
02)  Inside the cab, we installed the ididit steering column and a new set of pedals to replace the through-the-floor originals. Dakota Digital provided a new set of gauges to fit in the stock location, and we rewired the whole vehicle with a new harness from Painless Performance.
03) While installing the new gas tank, CPP's Jim Reiss takes measurements to cut an opening in the bed floor for the filler neck.
04)  Lee Watts, the OC Mufler Man, welded up a bunch of the Hedman tubing to make the exhaust system, which ended in turn-downs just before the rear axle.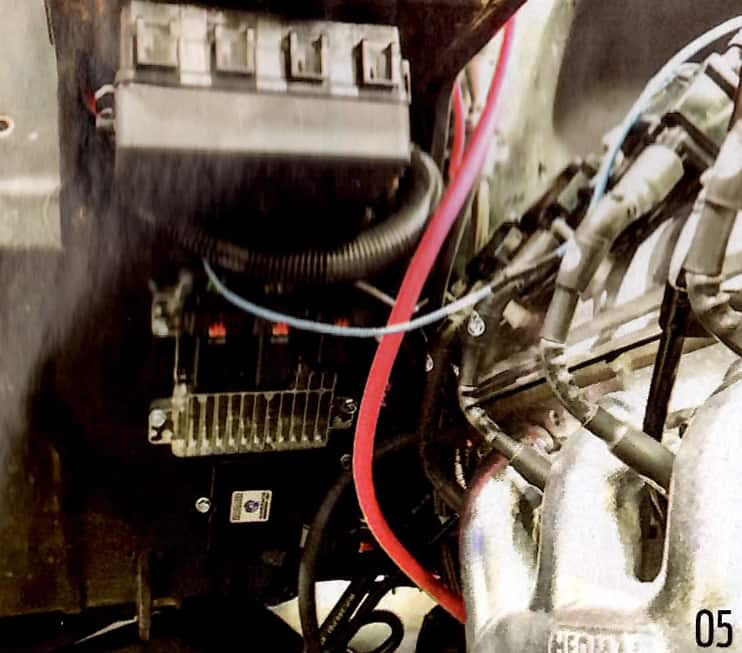 05)  We mounted the Chevrolet Performance ECM and transmission controller on the firewall beneath the battery tray. From there, it was a matter of plugging the harnesses in and we were close to firing the engine for the first time.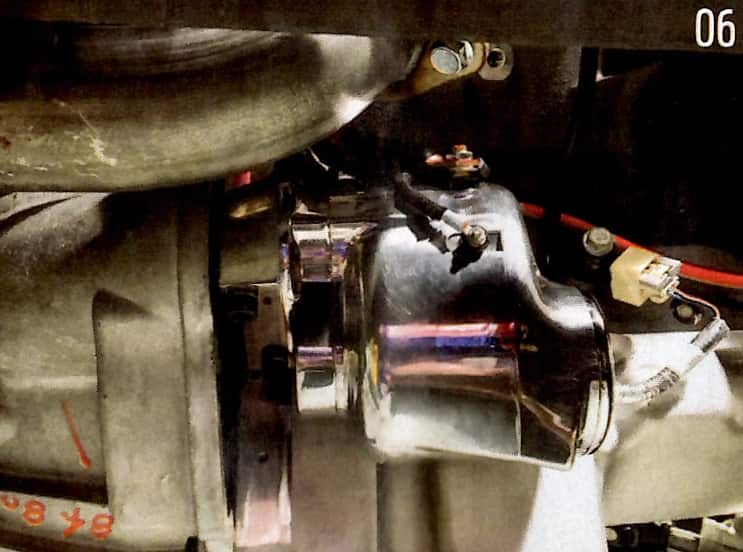 06)  This is a new gear-reduction starter from Pertronix. It's compact shape makes it easy to it in tight spaces and provide plenty of clearance from the hot exhaust.

07-08)  The moment of truth: By Friday, the Apache was back on the ground sitting on this set of killer-looking 18-inch rally wheels from  American Legend. Their classic looks, plus the slammed stance, were a huge improvement in the looks department.
09)  After a thorough final check of all the components, the engine fired right up, and we verified there was no fuel leaks and that we had four forward gears. All tests passed with flying colors, and we took the Apache out for burnouts, but you'll have to watch the videos online to see that. Spoiler alert: The police may have stopped by to end the session early.
10)  Our efforts paid off and the Apache completed the Power Tour® without any issues. Sta-Bil's director of marketing, Matt Banach, reported the truck was a blast to drive and ate up the miles effortlessly. His one lament: We should have installed air conditioning. That's a story for another time.