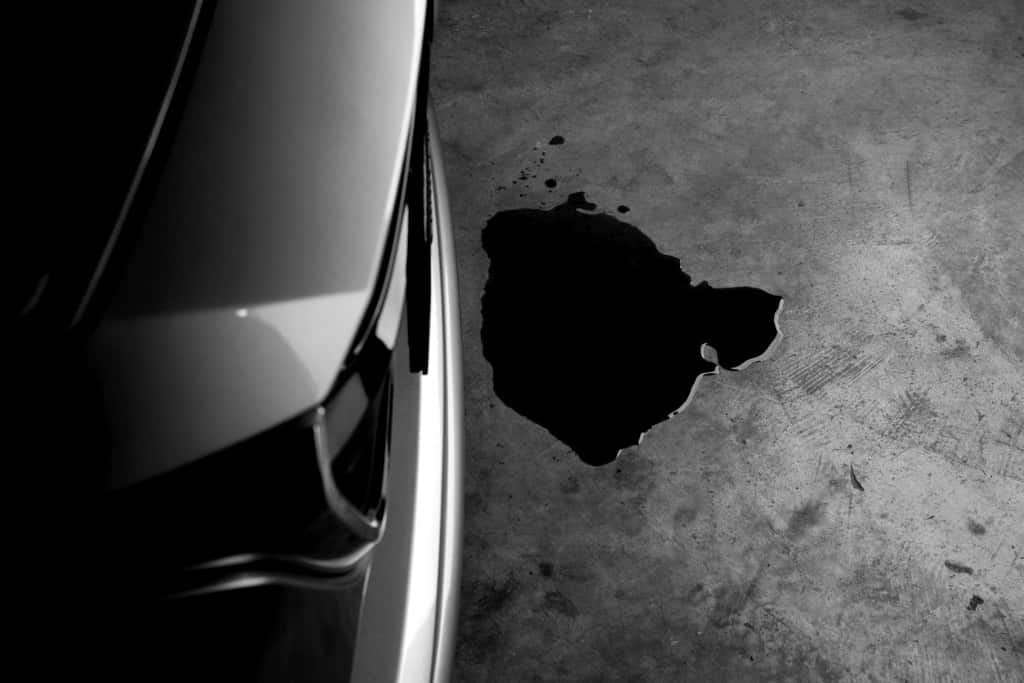 Have you ever wondered why a puddle of red fluid always seems to appear under your vehicle magically? There's a big problem if you have noticed similar stains on your garage floor or driveway or keep refilling your transmission fluid. You have a transmission fluid leak that needs urgent attention. Ignore it, and you may be headed for a complete transmission failure!
The Importance of Transmission Fluid
Transmission fluid, also referred to as 'transmission oil,' is the lifeblood of your vehicle transmission. Its reddish color makes it relatively easy to identify. The primary job of the transmission fluid is to lubricate and protect transmission components efficiently. If you have low transmission fluid levels or a leak, it may significantly affect the transmission's overall performance. If ignored for a long time, it could cause crucial damage to those components. You will spend lots of money fixing the leak and then replacing the transmission oil.
What Causes a Transmission Fluid Leak?
A leaky transmission may be caused by a critical or minor issue you can tackle, either on your own or with the help of a professional auto mechanic. Whichever one it is, joking around with a problematic transmission is a mistake you should never make. Here are the top common causes of leaky vehicle transmission:
1. Broken Seals
Automatic transmissions efficiently sustain hydraulic pressure via several different transmission seals. But over time, these seals get worn out and crack. This often occurs when the seals are constantly exposed to heat or high temperatures. It could also occur when too much transmission fluid floats within the system. Therefore, if a transmission leak occurs due to broken seals, you may need to have several areas checked by an auto specialist. However, in most cases, mechanics find leaky seals in the output shaft or input shaft. The mechanic may need to also examine the following transmission-reliant components:
Sensors

Transmission pan

Driveshaft

Shifter housing seal

Speedometer input seal

Plug seals

Tail housing seal

Valve body
2. Drain Plug/Transmission Pan
The drain plug or transmission pan is a durable component that will experience wear and tear over time. It is highly vulnerable to damage as it takes several daily hits from debris and loose rocks on the road while driving. A transmission leak occurs when the transmission pan becomes punctured. It may also occur due to loose bolts or drain plugs. A leak will occur quickly if you drive on rough terrain and a big rock – or some other hard object – hits the transmission pan.
You will usually notice this almost immediately, and your transmission starts losing fluid quickly. It may take a while to notice smaller punctures or holes in your transmission pan. Leakage may occur if the bolt or drain plug is over-tightened until it strips or if they are not tightened enough. This problem usually occurs almost as soon as you change the transmission fluid. So, ensure the mechanic that will work on your vehicle is a professional. They will know the exact force to apply or use when tightening bolts, etc.
3. Transmission Pan Gasket Fails
The transmission pan gasket is a vital component of the transmission system. The gasket may get damaged due to a wrong alignment during a previous installation. It could also be damaged if exposed to high temperatures constantly or as a result of poor construction/manufacturing. Whatever the case, the outcome is a transmission that leaks its lifeblood. The transmission pan gasket is affordable and easy to replace. Get a professional auto mechanic to replace the pan gasket as soon as possible. If you delay a little longer, more severe issues will crop up, requiring you to spend more resources to fix them.
4. Cracked Fluid Line
Most fluid lines of vehicle transmission are made from durable aluminum or steel. However, they're prone to damage due to heat exposure or road debris. These could cause the fluid line to crack or even break completely, resulting in transmission fluid leakages.
5. Leakage of Torque Converter
The transmission fluid finds its way into the whole system via the torque converter. However, transmission fluid will leak if there is a crack anywhere on the body of the torque pump or if the needle bearings are severely damaged. This is a big problem and a complicated fix. Therefore, take your vehicle to the local mechanic. The only option, in this case, is to replace the torque converter.
How to Maintain Your Vehicle's Transmission
Transmission issues are usually bothersome and expensive compared to other types of vehicle repairs. This is why knowing how best to take care of your vehicle's transmission is vital.
Check Transmission Fluid Levels
Every now and then, check the levels of your transmission fluid as well as its overall condition. Follow the vehicle manufacturer's procedures in the owner's manual before inspecting the dipstick. In some instances, you can only make these checks when a vehicle's engine is running while some other vehicles' engines must be off.
A Sweet Smell With Reddish Color Is Good
Good transmission fluid should have a sweet smell and a reddish or vibrant shade of pink. However, it is not uncommon for the transmission fluids in some vehicles from specific manufacturers to be of a different color.
Get a Transmission Flush Every 30,000 Miles
If you need to top up the transmission fluid level, ensure you use the right and perfect kind, as recommended by your vehicle's manufacturer. Create time for regular transmission flushes. Experts suggest performing transmission flushes every 30,000 miles.
Don't Forget to Service the Coolant System
Make sure to service your coolant system from time to time. This ensures the proper functioning of your entire cooling system, which helps to cool the transmission fluid.
Opt for Certified Transmission Repair Annually
Another excellent maintenance habit you should learn is having a certified transmission repair expert look over your transmission. You can have this inspection performed at least once per annum. This is the easiest way to discover any hidden or unnoticeable transmission issues that can be nipped in the bud before it becomes serious and will cost you lots of money to fix.
Fixing a Transmission Fluid Leak to Prevent Failure
There you have it: the most common causes of transmission fluid leaks. Fooling around with a problematic transmission is a big mistake. It could result in complete transmission failure, which would cost you a lot of money to fix. When you notice a transmission leak, find your way to the nearest auto mechanic shop to have your vehicle checked and fixed immediately.
Shop Gearstar
For more information on transmissions, parts, and how-to's, visit Gearstar every week to see what's new. Whether you're flexin' a GM, Ford, or Mopar, Gearstar has what you need! Contact us today or give us a call.