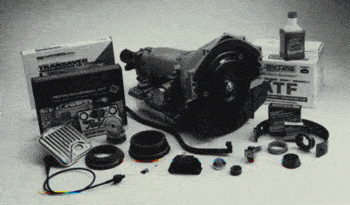 Overdrive transmissions might seem like the perfect solution for any vehicle, and indeed they are offered today in almost every machine from the smallest puddle-jumper to the largest SUV. However, you need sufficient beans in the engine to take full use of one. Ever rented an economy car at an airport? Once that little 1,200-1,600cc banger is in OD on the highway, it hasn't got the performance to pass a butterfly in the next lane, let alone another vehicle and if you're in hilly country, you never quite have a chance to get out of third gear, so the OD is of little help there. Hence, we hot rodders came up with the perfect marriage, a high-performance engine like our RamJet coupled to a performance-modified automatic-overdrive transmission and some good rear gears. Run strong in drive with the lower rear gears' pickup, run quietly and efficiently on the highway, yet still have all the power you need to pass a line of trailers at the touch of your foot without shifting. Sweet.
For the Road Tour coupe, our RamJet was bolted to a modified 200-4R built by the folks at Gear Star. They actually offer a deal called the 2006 Street Rodder Road Tour Package! With your choice of the 4L60, 700-R4 or 200-4R GM transmission, they bring it up to their Level 2 or 3 specs, add a furnace-brazed, higher-stall lockup converter, dyno-test it at their facility, and give it to you with a two-year/24,000-mile warranty-this is an outright deal, no core required. At Level 2, the trans is capable of handling 400 horsepower, so this package is a fine match for our 350hp engine. At Gear Star's Level 3, these same three transmissions are said to accept up to 800 horsepower, so we can imagine Level 4 transmissions must be built from billet unobtanium.
What makes the Road Tour package even more of a deal is what's included besides the transmission and converter. The lower converter cover (sheetmetal dust cover), dipstick, and dipstick tube would be natural components to include, but you also get the trans mount, throttle pressure cable, a 20,000-lb GVW (gross vehicle weight rating) Hayden fluid cooler, a wiring harness, and 13 quarts of Amsoil synthetic ATF. Oh, and a Gear Star T-shirt, too. Since the average street rod weighs between 2,500 and 3,200 pounds, this is enough overkill on cooler size to ensure the Road Tour Chevy a long-lived transmission.
The wiring harness hooks up the patent-pending, vacuum-switched converter lockup, which allows even a relatively high-stall converter to be locked up on the highway for increased transmission life due to the reduced friction heat from slippage, yet when you need to punch and pass, all your engine's power is available. Our car is equipped with a Level 3 Yank Racing 10-inch converter with 3,600 stall speed that would seem to be too race-oriented by old standards, yet it's nearly bulletproof, and the correct transmission programming functions with Gear Star's years of experience makes an eminently roadable package with the beefed-up 200-4R. Both Zack Farah of Gear Star and Dave Meyers of Yank Racing subscribe to the same philosophy of business as ol' Henry Ford, i.e., build a reliable product and the ensuing customer loyalty will make your company a success.
The GM drivetrain engineers took the functionality of the bigger GM OD transmissions and scaled it down to a more efficient package with lighter rotating parts so the 200-4R can be used with smaller engines with less torque; hence its reputation in our kind of crowd for being less durable. However, with Gear Star's modifications, this trans can hold its own with any modified overdrive trans and still have the lighter weight and compact profile that make it popular, especially since it can be swapped around to bolt onto not just Chevrolets, but also BOPs (Buick, Oldsmobile, and Pontiac).
Gear Star doesn't have impressive racks of shelf transmissions built up in advance; every transmission is custom-built to the customer's application, and only one experienced technician works on your transmission from the initial cleanup to the final tests on Gear Star's transmission dyno. You need to be prepared before calling them, though, because they'll ask for information on your application, including the vehicle weight, engine size, camshaft profile, tire size, rearend gearing, any projected track use, idle speed, and the amount of vacuum the engine pulls. All these bits of information can tell an experienced transmission facility like Gear Star exactly what you need. This isn't mass-production trans building by a string of unskilled workers, and perhaps that's why employee-owned Gear Star has less than 1 percent returns. Their motto is "A fair price for a superior product."
There are a number of weak points in any stock OD automatic, especially when put behind a performance engine and driven by a hot rodder rather than a little old lady. From the front pump to the tailshaft, there are lots of components inside a modern automatic, every one of which has its high-performance counterpart installed according to the abuse (driving conditions) it will receive. The converter is opened and modified for a specific application and fitted with a heavy-duty steel hub (welded on), after which it is furnace-brazed together again and then pressure-tested and balanced. The forward drum shaft, center support, and low clutch housing support are all replaced with new components machined of 300m hardened steel. The shaft also benefit from longer splines (stronger), no relief cuts, and smaller through-holes.
To handle higher loads, Gear Star uses bigger and better bands with more clamping force. The sun gear shell is a stout, one-piece design, the planetary assembly steps up from a stock four-pinion to a five-pinion, a Sonnax Superhold third-fourth servo is installed, the clutch drum is reinforced, and the clutch's internals are all-new. A stock clutch drum is reinforced with a steel friction plates and clutches can be installed for higher torque capacity. The clutch discs themselves are faced with Alto Red Eagle friction material, and ballistic Kevlar is used on the bands.
What the MEFI-4 controller represents to our RamJet 350 is what the valve body represents to an automatic transmission and Gear Star modifies the fluid pressures, shift points and other parameters for you application. We can't explain in this space all the possible mods done on each custom-built transmission, but suffice it to say they're confident you'll be happy with the results. Before they package it carefully for shipment, each transmission goes through rigorous testing on Gear Star's Axis Line dynamometer, where it is run up to 130 mph numerous times, and the fluid temperature and pressure is checked in all gear positions. The veteran technician who builds your transmission wants it right before he puts his name on it. With the recommended-size fluid cooler Gear Star includes in the 2006 STREET RODDER Road Tour Package, each unit should be good for years of street rod use, even with occasional stoplight blasts when a snarling sport compact car forces the situation.
| | |
| --- | --- |
| | When Gear Star Performance Transmissions puts together a 2006 STREET RODDER Road Tour Package, it's complete! Our 200-4R has the best internal horsepower transferring components. All their trans are custom-built to order. |
| Check out the wider band and parts used in the super servo that comes in all of Gear Star's 200-4R transmissions. | |
| | Just one technician works on a Gear Star transmission from start to finish, with all work based on the requirements of the specific application and expected usage. |
| Here's one of the most important parts needed to make a 200-4R stronger, a billet forward drum with a 300m hardened-steel shaft and fully rollerized center support. | |
| | The second weakest link in the 200-4R for performance applications is the input shaft. The answer from Gear Star is this serious replacement made from 300m hardened steel. |
| Lots of rodders claim their engine is dyno-tuned, but how about the transmission? Every Gear Star trans is tested on this dyno, where all the gear positions and fluid pressures are checked, and a number of high-speed runs put the package to the test before going to a customer. | |
| | Our 200-4R arrived at Boyd's in a serious crate for protection, packed with the rest of the components in Gear Star's Road Tour Package. |
| A new converter lower cover is included, but how many transmissions come with a Hayden oil cooler with its own electric-fan? Cool. | |
| | Here's how the Lokar flexible stainless transmission dipstick and tube, the 200-4R's wiring harness, and the Lokar throttle pressure cable. |
| In place on our painted transmission, the Lokar flexible trans dipstick setup is so convenient. Lay it down on the engine, and after the drivetrain is installed back in the car, just screw the upper end of the tube bracket to the firewall. | |
| | When the engine and transmission were finally painted and detailed for our coupe's final assembly at Boyd's, it looked too nice to cover up with a hood. Check the coated exhaust and polished components to the Vintage Air Front Runner serpentine belt system. |