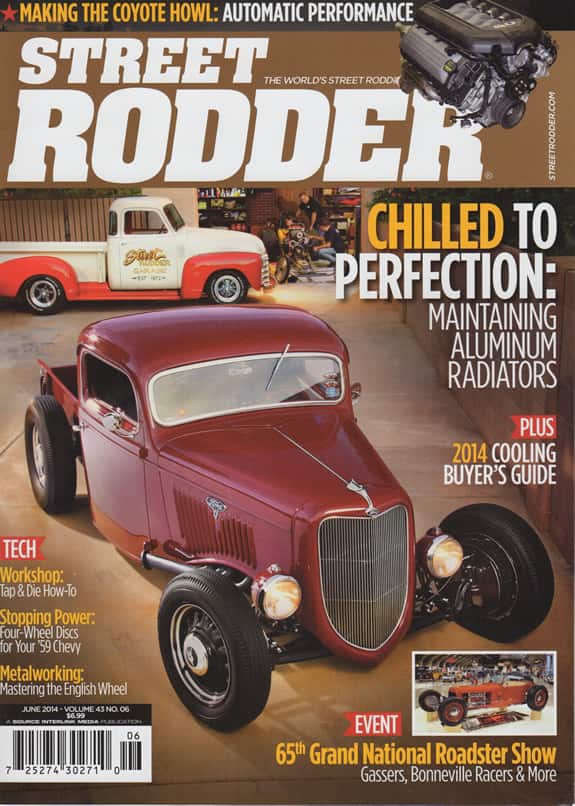 Over the years Ford has produces a number of noteworthy engines, but their latest offering just may be the best yet. Most often referred to as the Coyote, Ford's official designation is the 5.01L Ti-VCT (Twin Independent Variable Camshaft Timing). Regardless of what you call it, this all-aluminum powerplant is light, powerful, efficient and is finding its way under the hood of an increasing number of street rods. Thanks to Ford Racing and Performance Parts (FRPP) there are several versions of the Coyote engines in crate form available to street rodders. They range from the 412ho version that was introduced in the Mustang GT to the supercharged 500-pl8us horsepower engine found in the Shelby GT 500.
While the FRPP crate motor program makes engines readily available, dropping a Coyote in an early car requires more than hooking up a few wires and a fuel line. However, thanks again to FRPP, the complex needs of the Coyote are easily met with control pack M-6017-A504V. This kit includes a PCM with Ford Racing's unique calibration, electronic throttle pedal, wiring harness with an OBD-II diagnostic port, power distribution module, air box, inlet tube, MAF sensor, and HEGO (oxygen) sensors. It should be noted that this PCM will not work with the original returnless fuel system. (A simple method to convert to a return-style system is to use a fuel pressure regulator with a return port.)
The PCM in the FRPP kit is listed for manual transmission applications and that has led to some confusion, IT does not mean that automatic transmissions can't be used – it simply means the computer will not support an electronically controlled transmission. If an automatic transmission is used this PCM will still operate the engine, however an electronically controlled transmission will require an additional, stand-alone computer.
Transmission Options
There are a variety of transmission choices for the Coyote. When it comes to manual's strength is a concern, which means a T-5 from a small-block isn't a good choice. On the other hand, TREMEC five-speeds are up to the task ad will bolt to the Coyote with the appropriate bellhousing. It should be noted that while flywheels and flexplates are the zero-balance, eight-bolt style found on the modular, the Coyote crankshaft sticks out of the clock 0.167-inch further. Fortunately there is enough "wiggle room" with the input shaft/clutch package of manual transmissions and the torque converter of automatics that it is not an issue. However, be aware, the starter reference plate that goes between the engine and transmission helps provide adequate clearance (as well as properly locating the starter) and must be in place.
For those who want to go with a automatic transmission there are a number of choices. One option would be a Ford 6R60/6R80 six-speed but they are hard to find, expensive, and aftermarket hasn't had a chance to address some of the issues that may cause problems in performance applications. For our application we chose a Ford four-speed overdrive 4R75W from Gearstar.
Gearstar has developed years to finding the weaknesses in the popular automatic transmissions and then set about developing parts to correct them. These improved components increase the transmission's capacity to handle more horse power, torque, weight, rear gear ratio, tire size, type of speedometer drive and the intended use of the vehicle. All these specs are then used to calibrate the transmissions shift feel for the application. All transmissions are custom dyno tested with the converter for the equivalent of 100 miles to ensure that the entire package is in perfect operating condition before it is shipped to the customer.
Our Lever III transmission is for 500-plus horsepower and 450 lb-ft of torque. It is equipped with a long list of improved parts, including Alto Hardened Kolene Steels, Raybestos Stage I Frictions, and Transgo Programming shift kit with Shift Command Filter; electronics include an updated EPC, new shift solenoids, lock-up solenoid, internal wiring harness, output sensors; complete Torrington bearing kit, new bushing kit, new reverse band, alto red eagle wide OD band, 300mm, hardened input shaft; high-capacity four-plate intermediate clutch, direct clutch pack with eight friction, reverse drum with heavy-duty mechanical diode, updated sun shell and gear, new low spring and roller, high-capacity pump assembly, expanded capacity overdrive servo updated OD servo pin, updated Third gear accumulator piston, extra capacity aluminum pan, transmission mount, customer 360-degree adjustable shift linkage arm, and a 30,000 gvw cooler. All that and it came in a crate delivered to our door.
While computer controls have improved the performance and efficiency of modern automatic transmissions, without a transmission control unit (TCU) they're a better doorstop than gearbox. But for every problem there is a solution and in this case it comes from the appropriately names Powertrain Control Solutions (PCS).
As the crew at the PCS explains it: "The primary factor separating the modern electronic automatic transmission from yesterday's hydro-mechanical automatic transmission is the speed and complexity of the logic used for transmission behavior. The hydro-mechanical automatic transmission of yesterday could only make its decisions based on throttle position, engine load, and drive shaft speed. Whereas the TCU can use these inputs as well as torque converter speed, engine speed, wheel speeds, traction control parameters, electronic throttle position, fluid temperature, engine temperature, brake pedal actuation, forward lateral acceleration, as well as several other parameters. The TCU can also utilize manual shifting operation and provide altered transmission behavior for special conditions (road race, drag race, dynamometer, snow towing)".
For those looking for a straightforward, easy-to-live-with transmission controller, PCS offers the Simple Shift. A laptop is not required to install the Simple Shift and it will completely control shift points, shift firmness, and torque converter lockup. Transmission shift points are adjustable by dials on the end of the control unit and diagnostic capabilities are communicated by flushing LEDs that also indicate what gear the transmission is in and whether or not the torque converter is locked. For those who want more adjustment options the Simple Shift tuner is also available. The hand held unit can remain connected to the Simple Shift or be removed when programming is complete.
Also available from PCS is the TCM-2000 features dual calibrations that allow the driver to pick two distinctly different transmission operating modes (sport mode, tow-haul mode, and so on) with programmable shift points, shift firmness and torque converter lockup tailored to each application. A CAN interface (control area network, which lets multiple computers talk to one another) allows the TCM-2000 to be seamless, used with CAN-based vehicles or ECUs, and also simplifies the connection to a PCS Paddle Shifter or GSM-2100 Gear Select Module.
To put shifting at your fingertips, PCS offers the GSM Push Button Shifter that replaces the shifter lever and linkage with a small touch-pad control module and sealed actuator. Thanks to its design, the GSM control module can be surface or flush-mounted and is small enough to fit in consoles, dashes, door panels, or even armrests. Each button is recessed to avoid inadvertent touches and brightly backlit for darker environments. An easy-to-read display shows you what gear you're in. Standard control modules utilize a PRND configuration along with plus and minus buttons for shifting up and down.
Another unique shifting option is the PCS Paddle Shifter. Designed to provide the look and feel of an OEM system, it will bring out the Ferrari Formula 1 driver in anyone, it's that cool. Easily installing behind aftermarket 5-, 6-, or 9-bolt steering wheel, the paddle shifter communicates with the transmission control unit via a wireless receiver module that plugs into the PCS transmission control unit's wiring harness.
As if the paddle shifters aren't cool enough, the option display allows the driver to view an array of data, including current gear, vehicle speed, coolant temperature, converter lockup, engine rpm, turbine rpm, transmission slip, manifold pressure, transmission temp, line pressure and driveshaft rpm.
Installing of the Simple Shift is uncomplicated. Mount the unit, hook up the wires, and you're ready to go. The output from the TCU plugs into the factory socket on the transmission, the remaining wires are for signals to the TCU – some aren't used while others are, depending on the application.
TCM-2000
Installation of the TCM-2000 is similar to the Simple Shift, the TCU is mounted and the wiring harness is connected. Next, a PC is used to start the TCU software, it will auto-detect the presence of transmission controller and the current operating parameters of the TCU will appear on the screen. At that point the transmission's functions an be tailored to its intended use. Detailed instructions on tuning the TCU will be found in the user's manual.
Coyote Installation Tips
Although the Coyote is light, it's not compact. Only slightly smaller than a Chrysler Hemi, the Coyote measures 26 inches long, 27 inches high, and 28 inches wide. In most cases the oil filter will interfere with the steering and the factory headers or cast-iron manifolds may be problematic. The good news is the aftermarket is responding and tight-tuck headers are available from a number of sources.
Another issue with the Coyote is mounting engine-driven accessories. Ford used electric/hydraulic power steering and as a result there isn't a provision for a belt-driven pump and the stock alternator location will often interfere with steering shifts and in some cases framerails. There are several front-driven systems available; however most leave the alternator in the stock position.
Installing a Coyote in an early car has its share of challenges, but then the result will certainly be worth the effort. Besides, if it were too easy, everyone would do it.