We built our Alabama Army Truck last summer as a high-horsepower, big-torque mud slayer and trail basher. But this Chevy also sees highway duty and everyday work chores, like hauling hay, trash, goats. We have every intention of doing more road trips in it like when we drove it from Alabama to California ("Alabama Army Truck", part 3, Feb. 14) as well as finding more rock trails to scrape the big truck over, and to do both of these we are going to multiply its gearing options with help from Gearstar Performance Transmissions and Advanced adapters.
The stock TH400 automatic is one tough cookie. You'll find a built TH400 in almost every big-power desert race truck and many performance rockcrawlers, but one downside of th 400 is the lack of an overdrive gear. If you want TH400 strength but one more gear drop engine rpm for highway cruising (and hopefully to raise fuel economy at the same time), then you should consider a 4L80E four-speed automatic for your GM-powered wheeling rig. Of course, there are even newer six-speed automatic coming fast to the aftermarket, but this truck will be just fine with the single 0.75 overdrive for the 4L80E. Unlike trolled automatic, but we will show you more of that in a future issue.
Behind the new Gearstar Level-4 4L80E automatic we wanted to upgrade the transfer case for more low-range gearing. The stock NP28 isn't bad with a 2.61:1 low range, and it is lightweight with a chain-base construction inside an aluminum case with a front planetary gear reduction. However, it has a slip-yoke rear, and we wanted a lower low range and the ability to access low range via front, rear, or both axels for added off-road performance. We considered the 203/205 doubler set up like Harry Wagner showcased this month in the story that follows this one, but the Alabama Army truck performs well with its light aluminum engine, so we opted to go with an Atlas two-speed transfer case with a dry weight of 110 pounds.
We chose a middle-of-the-road 3.8:1 low range. When multiplied by Gearstar's 2.48 First gear, and given the 4.56 axel ratios, this gives us a respectable 42.97:1 crawl ratio. Considering the 550 lb-ft under the hood from our supercharged 6.2L and the fact that the truck is built around 37- to 38-inch tires, we should be in a good spot for gearing off-road.
1 The TH400 in our Alabama Army Truck was starting to slip, likely due to the 550hp LSA crate engine under the hood and our uncontrollable urge to do burnouts with 38-inch rubber. Though fun, this type of abuse isn't good for a transmission, and ours was the original form behind the 6.2L diesel, so it wasn't exactly robust. We headed to Pacific Fabrication in Gilroy, California, to remedy our situation.
2 When we drained the old transmission fluid we found it black and burnt. We are currently running duel trans coolers, one built into the radiator and the other mounted in the bed. We plan on deleting the radiator cooler but adding a second front cooler to the truck for additional heat dissipation.
3 The old NP208 chain driven transfer case isn't terrible, but we opted for something better. The rear driveshaft has a slip yoke, and the front CV shaft will not work with our new longer transmission. All these parts were sent down the road.
4 For some reason we don't mind dirt, body damage, or dents on our trail rigs, but when we see beautiful new parts like the Gearstar 4L80E Level 4 transmission and the Atlas 2 transfer case sitting on the bench we suffer a twinge of grief knowing they will eventually be caked with dirt from off-road antics.
5 The new trans is packed with Raybestos friction, a Transgore programming kit, new bearings, bushings, and internal wiring harness. The transmission is built with all new solenoids and 300M main shafts and forward clutches. Gearstar rates the 4L80E at 800hp and 700 lb-ft of torque but also offers upgraded versions known as a 4L85E for up to 1200hp and 1,000 lb-ft.
6 The Pacific Fab team stuffed the new 4L80 in the Army Truck with the use of a transmission jack. If you are considering a transmission swap at home, we recommend a quality jack, and extra long socket extensions to access the bell housing bolts.
7 the transmission pan is a custom built steel version with integrated cooling tubes. The pan is deeper than stock for added fluid. The steel construction was chose to better defend against impacts off-road.
8 The 4L80 was built with a fully splined two-wheel-drive output shaft; however, the transmission adapter we are using requires the shaft to be shortened until it is flush with the rear face. Though the shaft is hard, it is easily cut short with a portable band say and the end beveled for easy assembly.
9 The 4L80 came with a partial billet 11-inch lockup torque converter with a 2,600 stall. We are excited to use the higher-stall TC from our previous 1800-2000 and feel confident that the six-bolt converter will be more than sufficient for our application.
10 We stuffed the Atlas 2 transfer case on the back of the transmission adapter in order to get the clocking just right. There are a multitude of clocking options to help keep the driveshaft angles clear and the shifters within easy reach. Then we added the supplied mounting studs to the Atlas by running two nuts together and tightening the stud into the case.
11 We installed the supplied sight tube and shifter pieces on the Atlas and then flipped it over on the bench and added oil. The transfer case takes about 2 quarts of Amsoil synthetic 75W-90.
12 The team at Pacific Fab had our old TH400 and NP208 out and the new Gearstar 4L80E and Atlas 2 in without drama, but there is still more work to do. Next time we'll tackle driveshaft's, plumbing, cooling, shifting, wiring, mounting, and protecting our new higher and lower gears.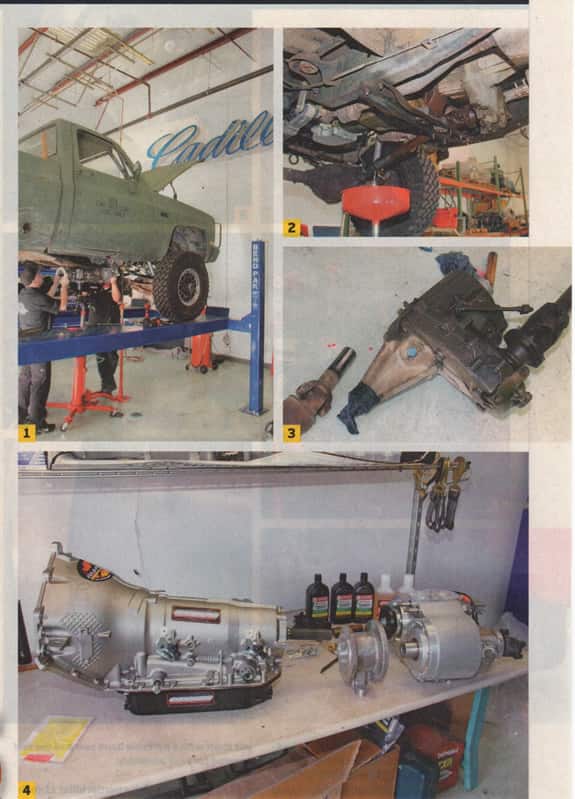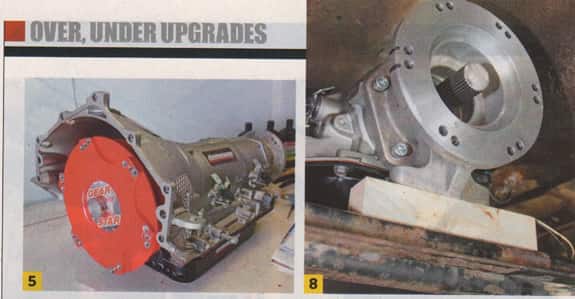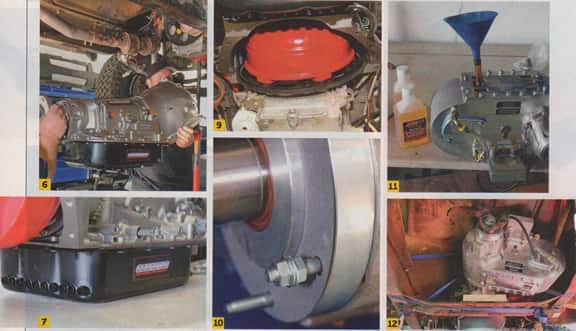 SOURCES:
ADVANCED ADAPTORS
800.350.2223
www.advancedadapters.com
AMSOIL
www.amsoil.com
GEARSTAR PERFORMANCE TRANSMISSION
330.434.5216
www.gearstar.net
PACIFIC FABRICATION
408.600.0122
www.pacificfabrication.com