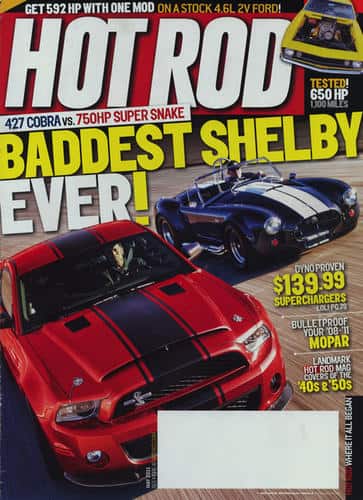 Do you ever think about how many thousands of minute, mechanical details on a car can shut you down? We don't. Nope, our schemes are anchored in the type of delusion that sounds like this: "The Crusher Camaro runs and drives- all it needs is an exhaust system. Let's throw an overdrive in it and go on a road trip!" Spoiler alert: We survived that mission with impoverished yet heroic flair, but now without o many pratfalls we almost stopped laughing.
Now backgrounder for the newbies. HOT ROD's Crusher Camaro is a '67 that was purchases in 1994 out of a parking lot where cars were being turned over to a gasoline company that crushed vehicles in exchange for government smog credits. That program presumed a volume of annual emissions per car and granted companies permission to produce that same amount of pollution for every car destroyed. Legalized bunco. Even so, it allowed us to intercept this Camaro as it lined up to die, pay the owner $700 for it, and produce stories that showed how a muscle car could be emissions friendly.
In the 15 years since current Editor Rob Kinnan's completion of that first stage, Earth ideology was dumped as the Crusher was loaded with an all-aluminum 632, a 383 small-block, and a blown, 489ci big-block during its makeover as an early- '80s street machine in the Dec. '09 issue. After completion of that story, the Camaro was driveable but lacked mufflers, and it bogged in the sludge of our priority list until last month's issue in which we vehemently called ourselves out with a challenge to get the show on the road. The Crusher hadn't been registered since 1996 or seen any significant street time since the 1995 Power Tour*.
What Could Go Wrong?
Seduced by the towering 8-71 blower, FNG staffer Mike Finnegan and I strategized a trip from headquarters in El Segundo, California, to the Barret-Jackson auction and the famous Pavilions cruise night in Scottsdale Arizona. In last month's story we outlined the mechanical upgrades that followed. The old TH400 three-speed automatic trans and stall-speed-never torque converter were replaced with a bulletproof Gearstar 4L85E transmission, and the bleeding, haphazard fuel system was made futuristic with a stainless, all-baffled Rock Valley tank with an Aeromotive Stealth A1000 Electric pump plunged into the top of it.
That's a breezing the world of magazine magic, but the truth is that our to-do list fluctuated at a rate that was more binge than purge. We had the trans in and out three or four times while wrangling the floor fitment and the custom crossmember and it took at least a day of fiddling and parts-store runs to mount the trans cooler in a sano fashion.
Only well after the fact did Finnegan reveal that he tagged the next week-on debacle as my fault. I wanted over-the-axle exhaust. That led to moving the old electric fuel pump, which et to the trick new gas tank, which led to the decision to use a high flow fitting that would not clear that floor, which led to a day spent figuring out how to avoid holes in virgin sheetmetal followed by another day making holed in virgin sheetmetal. We could have had a Big Mac meal every day for two months for what we spent on an AN fittings alone. And, after all that, our new 3-inch Flowmaster American Thunder exhaust system wouldn't fit-our custom crossmember's fault (which, by the way, was an inch too low the first time). We had Josh at Muffler Man in Placentia, California, redo the H-pipe in it, but we kept the Flowmaster mandrel-bent over-ale pipes that were the centerpieces to begin with.
More fun: we used to have Morose Trick Springs up front. We normally love those, but they hated the weight of the blower and the 75 extra pounds from the 4L85E versus the TH400. We blame gravity. Our 28-inch front tires would jounce into the fenders and skid under sharp declaration. That tends to end badly. We installed Classic Performance Products' PN FCS630D big-block Chevelle springs and solved the problem while ensuring no one would miss the retro nose-high stance. We nearly died only twice when cheapo spring compressors failed. China's fault. Around the same time we notices that no one had tightened the lower control arm bolts the last time the suspension was worked on. Bangshift Chad's fault.
Our nifty, old-school, gold-anodized valve covers leaked oil all over the Hooker Darkside (black heat coated) headers. But that's Chevrolet's fault, because big-blocks have horrible oil drain-back from the heads, and each one was holding about half a quart long after the engine was shut down. RTV and old-style cork gaskets fixed it. There was a say in making the fabricated aluminum hoodscoop fit, but that was the old velocity stacks' fault because they didn't have air filters in them and the scoop did. Our custom mount for the throttle-position sensor (required by the trans computer) had to be made twice, but that the fault of the Rube Goldberg dual-quad throttle link-age because we found out it wasn't going to WOT. But then the WOT problem was the gas pedal arm hitting a control cable for the heater that isn't even hooked up. Finnegan says that's my fault, but I'm writing the story, so it's his fault. I'll take the blame for breaking the shifter cable.
We burned up our credit card at Summit Racing and wore out our truck making trips to the parts stores for taillight bulbs, oil, gaskets, chemicals, cotter pins, vacuum lines, electric fan mounts, switches, and sheetmetal. Oh, and a battery. That was the alternator's fault, because the exciter wire failed, which was because the fuse box melted. Clearly Georg Ohm's fault. Finnegan was innocent in writing the electric fan and the trans computer to an old main power boss under the dash, and we don't have a scapegoat for that power boss and five other accessories being fed from a single accessory terminal on the fuse box because we don't know who installed it in the first place. [not me!—RK]
HORSEPOWER FOR THE WIN
Finnegan went another round with the wiring, contorted under the dash in the parking lot of Westech Performance where we'd finally arrived with a happy Crusher eager or some chassis-dyno time. All of a sudden our fortunes turned: the car performed perfectly with only on two rounds of tune-up jetting. We were all smiled with our 520 hp and 500 lb-ft to the wheels. That's in synch with our engine-dyno numbers from testing the blown Rat several years ago, when it made 650 hp and 650 lb-ft at the crank.
We soon had the front end aligned, and that shop saved our live by pointing out that the steering-column coupler that was about to disintegrate. Next we sent it out to have the Flowmasters installed, and we were thrilled with the work by Muffler Man and the sound of the car. We'd beaten fate.
ONE-TWO PUNCH
Then the water pump barfed in spectacular fashion in Muffler Man's parking lot. China again. The mounting surface for the bolt-on plate at the back of the pump was not machined flat, and the gasket pushed out. Some RTV and a fresh gasket reduced the problem to a relentless seep that we put up with as we happily test-cruised the Crusher all over the place. The driveability was perfect, the transmission was awesome, it ran cool on the highway, and it seemed fairly sporty in the acceleration department.
The scheduled morning of our department came soon. Using our Facebook pages, we'd invited readers to meet us at Westech if they wanted to join us for the trip. Thankfully, the only taker was old friend Scott Oldham of Edmunds InsideLine.com, a huge fan of retro street machines. It was OK to humiliate ourselves in front of him.
Finnegan blames me for what happened next. Moser Engineering had rushed us a new centersection for our Ford 9-inch rearend so we could replace the old 4.57 gears and Detroit Locker with 3.50 gears and a Moser Wavetrac limited slip. I figured we could install the chunk in half an hour before we hit the road.
Hitting the road happened 11 hours later. The Wavetrac had a center block between the ends of the axleshafts, and the old locker didn't. No problem, except one axle was half an inch too long so it hit the center and couldn't be installed. Only after having it shortened did we discover the bearing was wasted. Solving that snafu, we discovered the hard way that, while the other axle had bolted in place, it was really 1/8 inch too long. Here's the side-splitting juxtaposition of solutions to the axle lengths. Westech's Rick Stoner ran the first one to Gary at Accufab, who wrote a program for his CNC lathe to cleanly machine the axle to length and retaper the tips of the splines. For the second one, Finnegan hacked it with a 4-inch angle grinder and cleaned the threads with a belt sander. Urgency loves butchery.
HITTING THE ROAD
Finally, the big departure. Thirty feet later, we were out of gas at the end of Westech's driveway. This would become a theme. This time it was easily solved as Steve Brule rolled out a 55-gallon drum of Rockett Brand dyno fuel and pumped in a couple of gallons. We filled it all up at a gas station just a mile down the road.
Apparently we'd never filled the tank all the way. The good news is that the gas rapidly sought its own level so it would stop gushing out of the top of the tank, but not before finding the quickest path into our armpits as we hunted down the problem. We had installed the Aeromotive Stealth pump twice and failed to fully tighten the fasteners the second time after removing it to take a photo for last month's story, so we pretty much blame the readers for that. According to the guys at Aeromotive, the tank has too small a vent, causing the fuel to siphon out of the gap. Dreams of a steak dinner were dashed as we hit Burger King in a highly flammable state.
We had to get outta town, and we did—63 miles to Palm Springs, where the life expectancy of a 12-pack suddenly plummeted.
OUT WICKENBURG WAY
In the real world we were ahead of schedule, as we had brilliantly padded the trip by an extra day up front. We woke up to a corn dog and a Coke and headed east to Wickenburg, Arizona, a fist-night destination chosen for no particular reason. The drive turned into pure bliss. A little coolant still puking from the water pump? Yeah. A little wobble in the driveshaft and some more in the steering wheel? Yup. Didn't care. We were too blown away by our Griffin Aluminum radiator that kept 489 inches of 8-71-blown, 650hp –block at 150 degrees on the highway. It will hit 200 at extended idle, but wow. It actually needs a thermostat. We giggled like junior-high girls at the 2,100 rpm at a 70-mph cruise, a number delivered by 3.50 rear gears, 28-inch ties, 0.75: 1 ovefrive in the 4L85E, and a lockup converter. It turns only 4,000 rpm at 125 mph—but mind you, that's only a mathematical calculation.
What's more, the Crusher, with its six-point rollbar and stock seats, is amazingly comfortable. Perhaps pleasing is a better word. Like a good old ca, you can roll down the windows without getting the annoying buffeting of an aero-correct late-model. There's not much plastic in the interior to squeak and rattle, and the Super 44 Flowmasters had such a mellow tone at cruise that we could easily hear our self-congratulatory conversation. The sound of our awesomeness was deafening.
So was the shriek of this thing at wide open. As amazingly quiet as it was at cruise, the big-block absolutely screamed when we stabbed it. There's something about this tame little big-block that makes it unusually loud under power—not to mention unusually fast. We've been flip about this engine because it has a tiny cam, very average cylinder heads, midsize displacement, and a just 5 psi of boost. It makes 650 hp when any Rat with an 8-71 should walk in the door with 750 and negotiate up from there. Yet, with its torque curve that never sees south of 600 lb-ft, we could hardly keep the tires hooked up. They blazed from a 30-mph roll, no issue. More impressively, if we mashed it from 70 mph, the Gearstar trans double-downshifted and the thing took off, pulled hard, and never stopped until our sense of self-preservation kicked in. And with all that, it idles like a pooch. This is a truly an anywhere/anytime/anyrace program. The car is just rough enough around the edges that we weren't afraid to take it anywhere—including some dirt roads—yet ludicrous enough to attract attention like Scarlett Johansson running naked through church.
If the Crusher could have celebrated a great night in Wickenburg with us, it would have eaten a lot of Mexican food, drunk a lot of Corona, and smoked a few cigars. It was great. We credit us.
MAKING FUELS OF OURSELVES
The plan for the next day was to cruise the easy 70-something miles from Wickenburg to Scottsdale, do an interview with Dennis Pittsenbarger on HOT ROD Live radio from the floor of the Barret-Jackson auction, then hit the Pavilions Shopping Center cruise. With low urgency we engorged ourselves with biscuits and gravy, took in some sights, and were only a half-mile down the road when the engine burbled and ceased fire. To this moment we can't tell you precisely why. What we do know is that it seemed like a fuel problem, and we disassembled like a fuel problem, and we disassembled the entire fuel system, twice, trying to find a flaw. We even had the regulator in pieces at the side of the rod. No clogging, no air bubbles, no pump problems. Yet when we put it all together, "well, give it a shot" was followed with perfect performance the entire rest of the trip. We think there's a chance the adjuster on the regulator backed off. Not sure.
Regardless, we futzed with it for so long that we missed our HOT ROD Live interview. We did make it to the appallingly massive cruise night at dusk and were welcomed by rounds of applause from readers who'd been tracking our exploits online. We certainly did not have the most detailed car in the lot. It might have been the most outdated looking ride, though it was likely in the top 10 for horsepower and distance traveled. Most certainly, we were the most satisfied, 91-octane-wreaking dirtballs within 10 zip codes. Celebratory actions ensued.
HOME RUN
At the close of our adventure we were faced with a 400-mile drive home on the bleak Interstate 10, but we make the most of it, stopping to explore urban ruins at every turn, and rummaging through the flea market within the world's largest gathering of motorhomes in Quartzsite, Arizona. By this time we'd even figured out how to avoid running out of gas and were surprised to discover that we averaged 9 mpg on the highway, which was far better that expected. The Crusher treated us right all the way into the night, clocking a bit more that 1,100 miles by the time the headers cooled. We'd won.
Seem like a big comedy of errors? Maybe, but our travails represent the reality of every adventurer who takes on the likes of Power Tour, or Drag Week, or who dares to drive old cars regularly. Beating reality is the price and the reward of doing average things with absurd cars. HRM
THE SALVATION OF OVERDRIVE
In last month's issue we tracked the mechanical installation of the Gearstar 4L85E four-speed overdrive auto trans. Just before the road trip we wrapped up the Rapunzel of wiring that came with the TCI Auto trans control computer that had been preprogrammed for us by Hutter Performance (HutterPerformance.com), which works with Gearstar.
Bottom line, this setup made for the best automatic transmissions we've ever had. Key to that is the TCI TCOM software that allows the user to tune the exact points for shifting up, down, and into Overdrive. You can also choose kick-down speeds, converter lockup points, and line pressures. It's possible to have two tunes, one for cruising and another more violent setup for the drags. Between that and the converter performance, plus knowing that the Gearstar beefing ensures we could throw another 400 hp at the trans without issue, we'd day this is an expensive but worthwhile mod.