The Time Has Come
The time has come and the song is over. Your old tired transmission isn't getting the job done anymore. This is how to tell if you're buying the best transmission. Drive for show and putt for doe, right? All the time, energy and money you've poured into your ride means nothing when your transmission is failing. It's all show and no go when you can't put the power to the street. What's next?
There are many options when it comes to rebuilding, replacing and upgrading your factory transmission. The smartest thing you can do is research. Know your car and know your goals, dreams and desires. Ask yourself; What am I looking to achieve?

What You Need
The moment you set to restoring that classic, designing that custom or building that racer you set in motion a formula that needs to be solved. The manufacturers have developed the perfect system for stamping out massive quantities of automobiles. Each one the same as the next. Standardized. You're not standard and neither is your project. Why would you consider another standard transmission off the shelf? What you need is a custom performance transmission. One tailor made for your classic, hotrod, streetrod, custom or racer. You need a transmission designed and built to the specifications you've built into you car. A transmissions built by those taking everything you've built your car to be into consideration.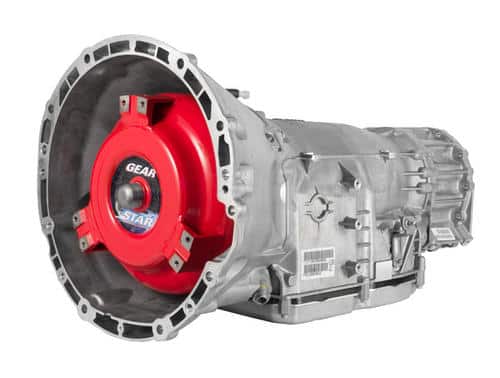 What We Do
Every Gearstar transmission is custom built to your exact specifications. We do not shelve any units. The transmission you purchase is custom configured for your application. Your custom performance transmission is built, by the same master technician, from start to finish. One pair of hands ensures no detail, no matter how minute, will ever be overlooked. In addition, Gearstar DYNO tested with converter the equivalent of 100 miles to insure that transmission and converter package are in perfect operating condition before they leave our facility. Gearstar dedicates to engineering and manufacturing the finest performance transmissions in the world. Additionally, we streamline communication and manage expectations so that we deliver you our best product. Gearstar manufactures performance transmissions to the specifications of the engine in which it is going to serve. As a result, matching the rear gear ratio and the horsepower and torque output of the engine. In conclusion, quality over quantity. It's what we do.
Contact us with any questions or for more information.